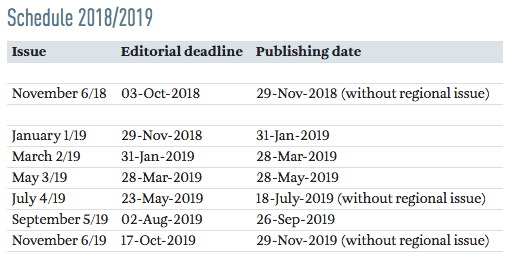 Swiss Review App
You can now download and read the Swiss Review at your leisure on your smartphone or tablet too!
Free and automatic delivery of "Swiss Review" to the Swiss living & working abroad.
Please use the FDFA's online desk to manage your Swiss Review subscription and choose to receive the publication either by post or email.
Visit the FDFA online desk here >
All entitled Swiss citizens abroad can receive their own copy of "Swiss Review", either printed or online. The magazine for the Swiss Abroad appears five times a year and provides information about what is happening at home and the activities of Swiss associations abroad. There are three regional editions per year. The Organisation of the Swiss Abroad (OSA) publishes the Swiss Review on behalf of the federal administration, and supported by a dedicated FDFA Delegate.
To ensure you receive the next edition in the format you require, we recommend you take the following steps:
If you have not received "Swiss Review": check with your Swiss representation (embassy/consulate) that your address has been registered correctly (postal or e-mail address). Contact details of the Swiss representations abroad.
It is also possible to check this with the Helpline FDFA who is available around the clock 365 days a year.
You can catch up on any editions missed in the Archive section in the Editions menu on the official Swiss Review website.
If you wish to change the form of delivery of "Swiss Review" for yourself (from online to paper, or vice versa), you can do so via the FDFA's website. Please note that the change can only be made by persons registered as the head of the household, i.e. those to whom "Swiss Review" is currently addressed.
Please contact your Swiss representation directly about all future matters concerning "Swiss Review". The editorial team at "Swiss Review" does not have access to your address or administrative details.
To ensure that delivery runs smoothly, please inform your embassy or consulate immediately of any change of address (postal or e-mail).