UPCOMING EVENTS
Swiss Community Events Calendar
Available for the first time, a comprehensive calendar to download with all Swiss events in the UK - from music concerts to art exhibitions to talks to just having a cuppa.
If you know of an event that is not listed on the calendar below of the PDF download, please do let us know so that we can keep it as up to date as possible:
Send us your event
Modern Art Oxford, Piper Gallery, 30 Pembroke Street, OX1 1BP
LESS DETAILS
MORE DETAILS
For a new commission by artist Nicolas Party, the Piper Gallery is taken over by a theatrical cast of female heads representing and acknowledging the achievements of pioneering women in the city of Oxford. Throughout the exhibition there is a series of public events taking place within the gallery, starting with a performance of Ethel Smyth's String Quartet in E Minor by the Stanford Quartet during the Preview Party on 24 November.
These events recognise and celebrate the wide-ranging history of women's contributions to academic life and social and research communities.©
Swiss Church London, 79 Endell Street, London, WC2H 9DY
LESS DETAILS
MORE DETAILS
Christmas Carol service Sunday, 17 December 5pm
Traditional German, French and English Christmas carols.
With Dieci Voice Choir, followed by refreshments.
Retiring collection in aid of the work of the Swiss Church
Click here for further details
The Cottons Hotel, Knutsford WA16 0SU
LESS DETAILS
MORE DETAILS
Join us to welcome the start of a new year with our New Year's Lunch on Sunday 21st January 2018.
Arriving 12.30 pm
Contact, Dieter 01824 790598 for more information and to RSVP.
Embassy of Switzerland, 16–18 Montagu Place, London W1H 2BQ
LESS DETAILS
MORE DETAILS
Welcome to our new Ambassador to the UK, Alexandre Fasel
RSVP information to the reception and talk will be published as soon as possible. Keep an eye on the New Helvetic Society website www.www.newhelveticsociety.org.uk/ who are organising the event.
Ambassador Fasel took up his new post at the beginning of September, and is acquainting himself with the large and diverse Swiss community across the UK.
Ambassador Fasel will be working towards strengthening commercial and cultural bonds between Switzerland and the UK as their imporantance cannot be underestimated as the preparations continue for the UK's departure from the European Union.
The Ambassador and the team are working hard to ensure clarity and continuity in the post-Brexit UK-Swiss relationship.
Read the Ambassador's Welcome Statement here
Collyer Bristow, 4 Bedford Row, London WC1R 4TF
LESS DETAILS
MORE DETAILS
With speaker Dr. Loretta Würtenberger the Founder & Director of The Institute for Artists' Estates on the topic "The challenges facing Artists' Estates"
Andy Warhol said, "Death can really make you look like a star."
But death does not necessarily secure the posthumous relevance of an artist. For that an active work with the estate is necessary. An artist's estate is successful when it is able to keep the work alive: when subsequent generations of artists draw inspiration from it and when curators, researchers, and collectors continuously find new ways to approach the artists' oeuvre. The talk by Dr. Loretta Würtenberger will reflect on these aspects and point out the steps widows, children and other responsible for an artist's estates can take to achieve the goal of keeping the work alive after the artist is gone.
Guests will also be able to view the current exhibition 'Make_Shift' in the Collyer Bristow Art Gallery who are very happy to continue to support the BSCC's Moving Art Series.
To register click here
BSCC Members: £20.00
Non Members and guests: £40.00
Places are limited therefore registrations will be handled strictly on a first-come, first served basis
Embassy of Switzerland, 16–18 Montagu Place, London W1H 2BQ
LESS DETAILS
MORE DETAILS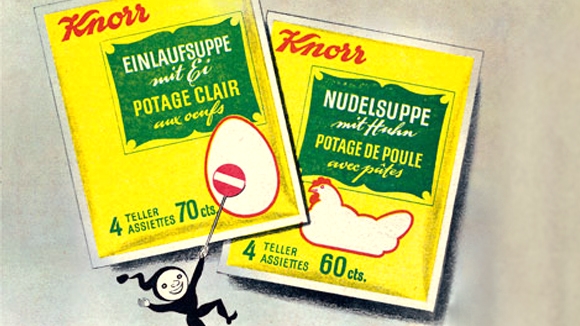 The Unione Ticinese presents a talk about renowned artist, Hans Anton Tomamichel at the Swiss Embassy London.
Booking and further information on the Unione Ticinese website http://www.utl.org.uk.
Places are limited, thus express and interest in attendance well in advance.
Tomamichel is most famous for the design of "Knorrli" - figures that caputure a world within a world of Knorr's packaging and marketing. The Knorrli first made their appearance in 1948 and are still in use today, gaining a cult-like status for the Swiss reminiscent of a forgotten age, having brought particular joy in the dark post-war era.
Tomamichel (1899 - 1984) was born in Bosco Gurin, Ticino, leaving his village aged 15 to pursue a graphic design internship in Zurich. In 1925 he made the leap into fine art at various academies in Paris. His fascination with the city and the fever pitch of life in the 20's was captured in his work through quick sure brushstrokes. Tomamichel returnsed to Zurich in 1927, marrying Anny Kaiser in 1928. The couple's five children necessitated a move back to commercial graphic design work spanning advertising campaigns, exhibitions, book illustration, birth and wedding announcements, stamps and logo types. He passed away in 1984 and is buried in his beloved Bosco Gurin.
Sunday 18th, 12:30 – Sunday 18th, 14:30
Raclette Lunch
Manchester Swiss Club
Brookdale Club, Bramhall SK7 3AB
LESS DETAILS
MORE DETAILS
Join the Manchester Swiss Club for a traditional Raclette Lunch on Sunday 18th March 2018, arriving for 12.30 pm.
Contact, Sandra 0161 456 9262 for more information and to RSVP.
Belfast, Northern Ireland
LESS DETAILS
MORE DETAILS
Save the date! The next AGM of the Federation of Swiss Societies UK (FOSSUK) will take place in Belfast from the 18th to the 20th of May 2018.
Timings are as follows but could still be subject to changes:
Friday 18th May:
o 18.00 – 20.30 Evening with Barbara Kastelin (http://www.barbarakastelin.co.uk/about/) in a traditional Irish Pub
Saturday 19th May:
o 10.00 – 12.30: Visit to the Titanic Museum and Ship SS Nomadic or
o 11.00 – 12.30: Visit of the city of Belfast
o 13.30 – 16.30: AGM and Cultural event with s1rtak1
o 16.30 – 18.00: Aperitif and canapés
o 18.00: Dinner at nearby restaurant
Sunday 20th May:
o 09.30 – 15.30: Giant Causeway tour