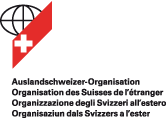 Organisation of the Swiss Abroad (OSA)
Organisation for the Swiss Abroad (OSA), is an independent organisation which is recognised as the advocate of the interests of the Fifth Switzerland.
Organised by the OSA, the Congress of the Swiss Abroad is the annual meeting of the Swiss citizen living all around the world. During this meeting, they have the opportunity to renew with the Swiss current information, to discuss on special themes and to exchange in a friendly atmosphere their own experiences. The Congress is held in German and French.
This Congress takes place each year in August, in a different area of Switzerland, and some 500 compatriots from the whole world come each year to this event. Visits, entertainment and meeting with the authorities and local population are also part of the programme.
Please visit the News page on this website to read recent press coverage of the Swiss Abroad as well as the FOSSUK Delegates Reports from the annual Congress or interim meetings.
Visit OSA's website here, or contact:
Organisation for the Swiss Abroad (OSA)
Alpenstrasse 26
3006 Bern, Switzerland
Tel: 031 356 61 00
Fax: 031 356 61 01
E-mail: info@aso.ch
95th Congress of the Swiss Abroad (OSA)
Friday 18th – Sunday 20th August 2017
Basel, Switzerland
Theme:
«Inland- und Auslandschweizer: eine Welt!»
«Suisses de l'intérieur et de l'étranger: un seul monde!»
Have your say
Discuss issues to raise and representation with one of our UK Delegates to the Council of the Swiss Abroad.

OSA Services
Legal Department

Youth Service

Editorial Office "Swiss Review"

Association for the Promotion of Education for Young Swiss Abroad (AJAS)

educationsuisse (formerly: Committee for Swiss Schools Abroad)

Foundation for Young Swiss Abroad (FYSA)
More information is available on the OSA website: www.aso.ch